Looking for a resource that you can use to share the Gospel in a clear, compelling way?  You've found it!  "Are You Ready?" features the true story of Allen Early, told in his own words.  Allen, a San Carlos Apache, was raised by his father in the traditional way.  He got involved in alcohol, drugs, and gang life and became so violent that his own people wanted him put away. But jail couldn't hold him. He escaped many times.  Finally, after a successful manhunt, he was put in solitary confinement.  There he tried to hang himself, but failed.  So he decided to starve himself to death.  It was then that a man came into the jail and shared his personal story about how Jesus changed his life.  Allen listened through the walls of his cell… and what happened next changed his life forever.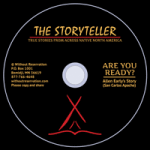 Thousands of these CDs have been given away. Find out why.
Listen to Are You Ready? (54:39)
"Are You Ready?" also features a powerful drama, "I'm Not Ready" about a woman who dies unexpectedly… and her day of judgment.  It's followed by a clear Gospel presentation.  Then, the end of the drama plays again, but this time with a much different ending.  This gripping story gives the listener an opportunity to consider what God says about death, judgment and eternity.

"I'm Not Ready" features the voices of Chug and Karen Garreau, and Huron Claus.  This dramatic audio presentation is also available by itself in CD and MP3 format .
Looking for ideas on how to use "Are You Ready?" and other Storyteller CDs?, click here.  If you would like to order bulk quantities of "Are You Ready?" to use in your ministry, please contact us.