Looking for ways to share the Good News with others? We want to help. The Gospel is the most important message we'll ever share… and it's too good to keep to ourselves. But how do we share it? It's helpful to have resources that are relevant and trustworthy available when we need them. And that's what you'll find here.
The Storyteller is an effective witnessing tool which communicates the Gospel through the testimonies of others who have put their hope and trust in Jesus. Find more information about these stories here. The Storyteller CDs have been used for outreach in many ways: pow wows, trading posts, VBS, door-to-door, home visits, Christmas gifts, pawn shops, personal evangelism, river boat ministry… and more. They're also great to include in gift baskets for friends, family, and the elders.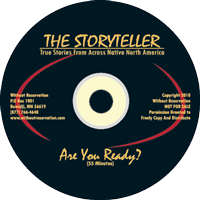 Are You Ready? is our primary witnessing resource. It features the testimony of Allen Early (San Carlos Apache) and confronts the question head on, "Are you ready to stand before your Creator?".   A clear Gospel message is presented using God's law, what He says about judgment, and what He did so that we could be saved. A powerful drama about death and our standing before our Creator is included.  It features two different endings based on what we do with Jesus. You can preview Are You Ready? here.
All CDs are free as long as supplies last. You only need to pay the shipping/packaging costs. You can download, present, duplicate, and freely distribute them for ministry purposes. Also, produced CDs are available in single and bulk quantities. If you would like to order any of our CDs, please contact us.