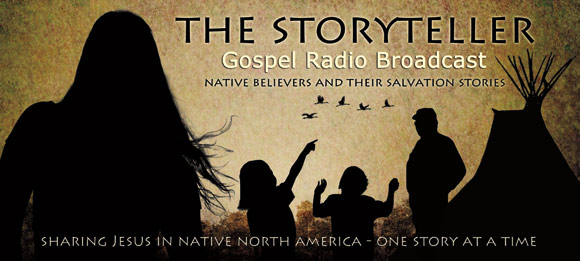 The Storyteller is an audio collection of true life stories of First Nations people from across Native North America.  What makes The Storyteller unique is that these are salvation stories – told by the people who lived them. These testimonies are powerful. They bear witness that Jesus is greater than the spirits, stronger than any addiction, and most importantly, that He is mighty to save. Don't be fooled, this is not empty religion, These are real people sharing their personal stories of hope, forgiveness, freedom through a relationship with Jesus Christ.
For hundreds of years, outsiders have been bringing the message to Native people. But now First Nations Christians are rising up and publicly sharing the Gospel in Native communities across North America – and they're doing this because they have found it to be true. The Storyteller gives them a voice and empowers them to be messengers of hope to all nations by means of Radio, Audio CDs, and the Internet.
Radio: The Storyteller radio broadcast can be heard weekly in 400 communities in Canada and the US. It reaches into places where there is no local Gospel witness – places that those sharing their stories would never be able to go. From the far reaches of Alaska and Canada to the plains of South Dakota, and the high desert of Arizona, each week Native people are hearing from Native people the Good News that Jesus saves. As God allows, we desire to see many more communities hear these stories of hope.
Audio CDs: Many people have used The Storyteller CDs to share the Gospel with those around them and encourage Christians in their faith. Thousands of CDs have been given away.  They've been passed out along the 1600 miles of Yukon river in Alaska, placed in trading posts, laundromats, and grocery stores. They're great to hand out at Pow Wows or to give away as gifts. If you're looking for a positive resource that is authentic, compelling, and hard to ignore, The Storyteller is for you. Click here to preview available stories.
The Internet: The World Wide Web has made it possible for First Nations Christians to share what Jesus has done for them all over the world. Closer to home, a Cherokee man in North Carolina came across The Storyteller online, heard the testimony of a Kiowa elder from Oklahoma, and put his trust in the Lord.  Now anyone with Internet access can listen to or download programs individually and subscribe to The Storyteller podcast.
Interested in helping us get the word out through The Storyteller? Click here for more information.